Have you ever noticed that while you're busy in the kitchen baking the most delicious treats for everyone, there's always one "person" who never keeps their eyes off you? Yes, it's your pets. They may lie on your feet, on the counter, smell everything, but surely hang around all the time even you may ignore them.
It would be so sad if they couldn't enjoy any of your bakings. This year let them be involved. The holiday season is for everyone, right. Since all the goodies you bake aren't good for dogs, let's make a compromise this time. Have a special batch of holiday dog treats for your paw friends, and make them feel be a part of your holidays' celebration with everyone.
Here are our five favorite recipes of easy holiday dog treats that you can try effortlessly.
Christmas Cookies For Dogs
---
To be fair, these Christmas cookies will look as delicious as cookies for humans, but with more special ingredients for your dogs can enjoy completely.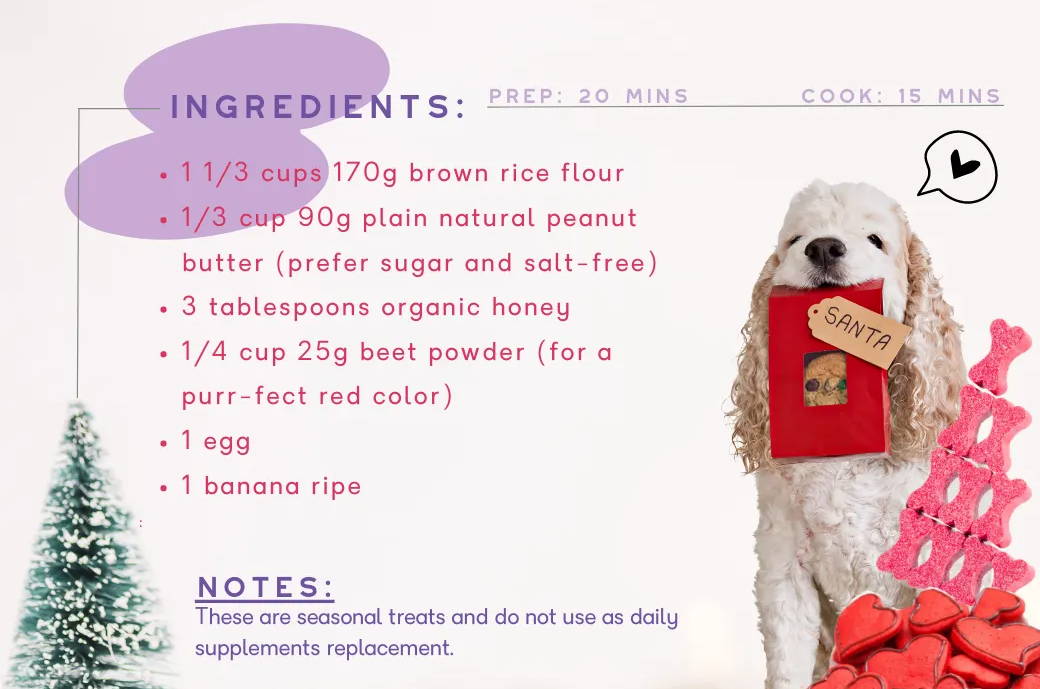 Instruction:
1. Prepare a large baking sheet with baking paper. Preheat your oven to 350°F.
2. Mix all the ingredients into a big bowl except the beet powder. Stir well until well-blended. Now add the beet powder and knead well with your hand to change the dough color into a beautiful Christmas red.
3. Put the dough onto a large parchment sheet top it with another one. Roll the dough until it's about 1/4 inch, and use a cookie cutter to design the cookie shapes. Fill the pan with all the shaped cookies and rest in the refrigerator for 15 minutes.
4. Bake the cookies for about 10 to 15 minutes, depending on the thickness of your cookie shapes. After taking it out of the oven, let it cool completely before serving them to your dogs.
Sweat Potato Holiday Dog Treats
---
A healthy holiday dog treat that can significantly brighten up his mood this Christmas.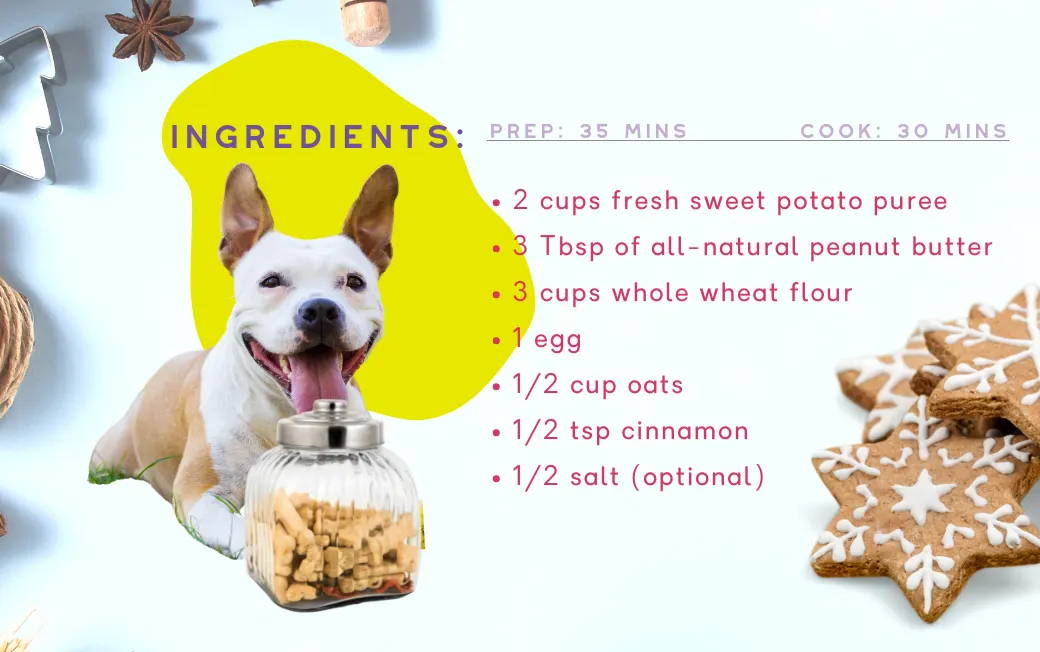 Instruction:
1. Preheat the oven to 350°F.
2. Peel two medium sweet potatoes and cut them into small cube pieces. Boil them in a pot of water for 15-20 minutes until soft. Drain cooked sweet potatoes and blend in the food processor or blender.
3. Stir the flour, oatmeals, and cinnamon together in a small bowl. Whisk the cooked potatoes with egg and peanut butter in a bigger bowl until combined. Mix the combination in two bowls into a well-incorporated one.
4. Pour onto a floured chopping board or countertop and roll the dough until 1/4 - 3/8 thick. Use a Christmas cookie cutter to cut the dough into your favorite shapes.
5. Bake for 30 to 35 minutes.
6. Until they are thoroughly cool and hard, your dog can try a bite.
Peanut Butter Holiday Dog Treats
---
Who doesn't love peanut butter? Your dog will thank you a lot for making him these tasty holiday dog treats.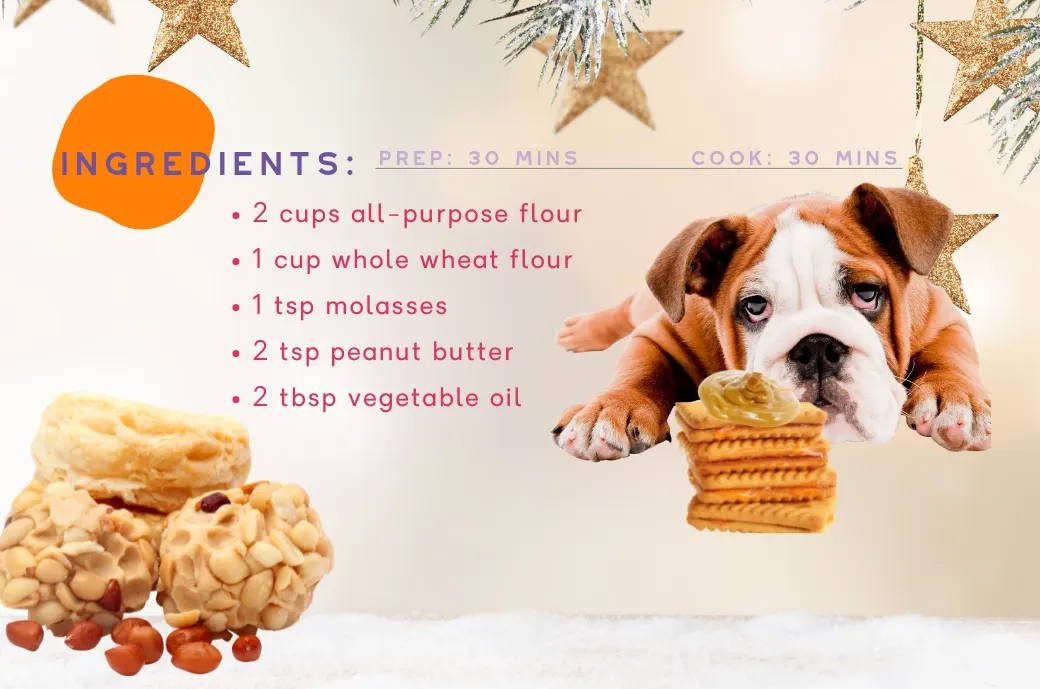 Instruction:
1. Preheat the oven to 350°F.
2. In a medium bowl, mix 2 cups of flour and 1 cup of whole wheat flour. Add 1 teaspoon molasses, 2 teaspoons peanut butter, and 2 tablespoons vegetable oil in a larger bowl. Pour the dry mix into the wet ingredients and stir until smooth.
3. On a baking sheet, spray cooking oil. Scoop the dough into small balls and flatten them with the back of a fork to create a crisscross score design. Or use a cookie cutter to make whatever shape you and your pawties love.
4. Bake for about half an hour. Wait until cool before giving the treats to your pup.
---
This is a non-baking holiday dog treat that you must try to make for your precious paws this Christmas.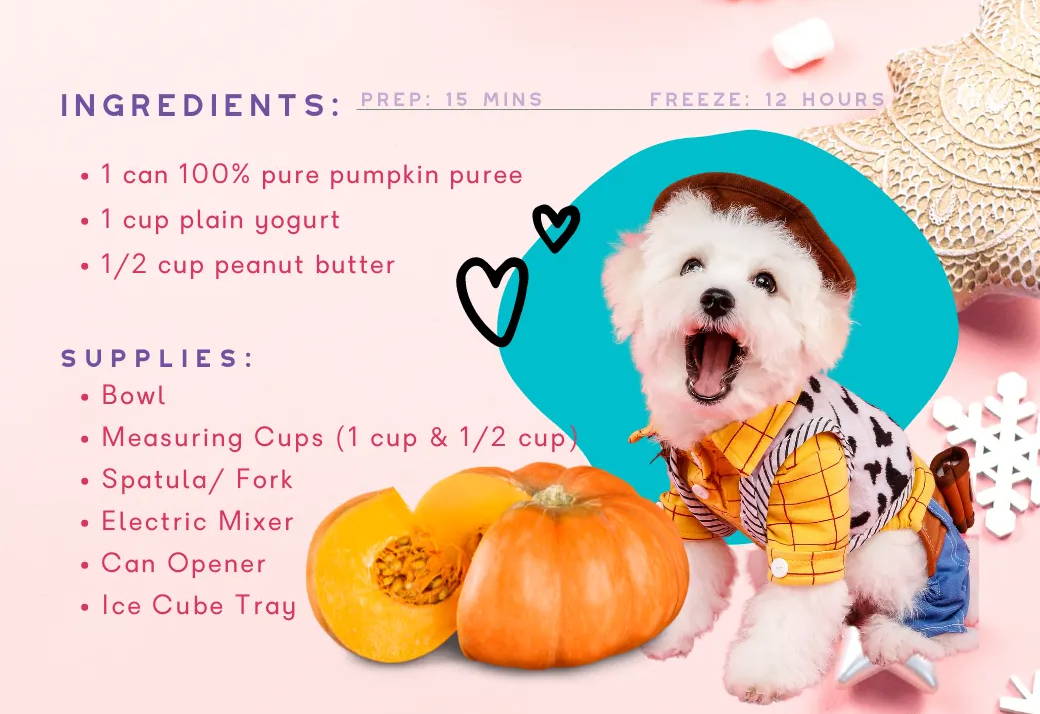 Instruction:
1. Use an electric mixer to blend all three ingredients until smooth.
2. Pour into the ice cube tray. If you have some fancier ice trays with heart or animal shapes, use them to make the treats look even better.
3. Freeze for 12 hours.
4. Pop them out and store them in a jar and give your furry friends a bite.
---
This is another healthy freeze holiday dog treat for you to fully use all the fruits in your refrigerator.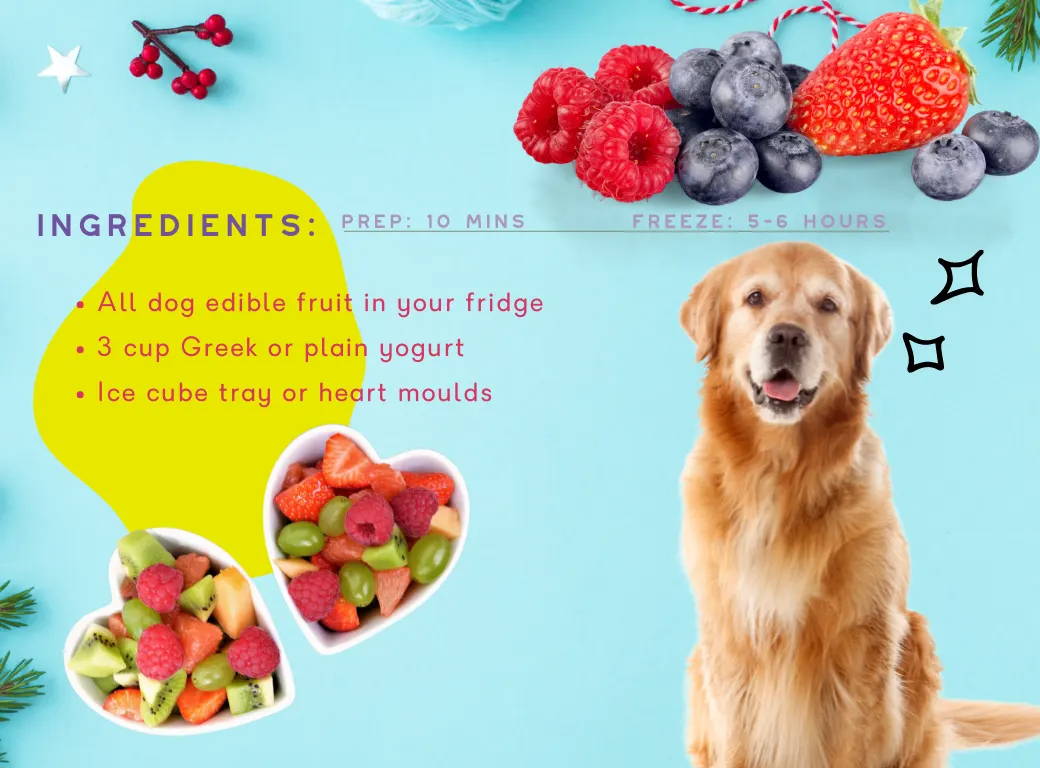 Instruction:
1. Not all fruit are edible to your dogs. Avoid cherries, grapes, raisins, lemons, limes, and grapefruit. Strawberries, bananas, oranges, mangoes, raspberries, and blueberries are perfect for this recipe.
2. Take out all the seeds. Put all the fruit in a small bowl. Add 3 tablespoons of Greek Yogurt.
3. Use a fork to blend them by hand, or put them in the blender to make a smoothie texture.
4. Pour into an ice cube tray or heart molds. Freeze for 5-6 hours.
---